February 23, 2023
12 min read
Extended Development Team and the Future of Project Cooperation
The IT talent gap in the US reached 918 thousand specialists, and by 2030 may get to total 85 million tech workers globally. Most companies experience this today, as finding a software development engineer with strong tech skills and full dedication to your projects has long become a challenge. Fortunately, we offer an extended development team — a solution that allows you to implement new promising projects without overpaying and wasting months on recruiting.
Read on if you aren't familiar with this concept and want to figure out whether it would work for your company. We'll show you what extended development teams offer and how they differ from traditional outsourcing and in-house hiring. Expect a few tips on building the perfect extended development team, too. But let's start from the basics.
What Is an Extended Development Team?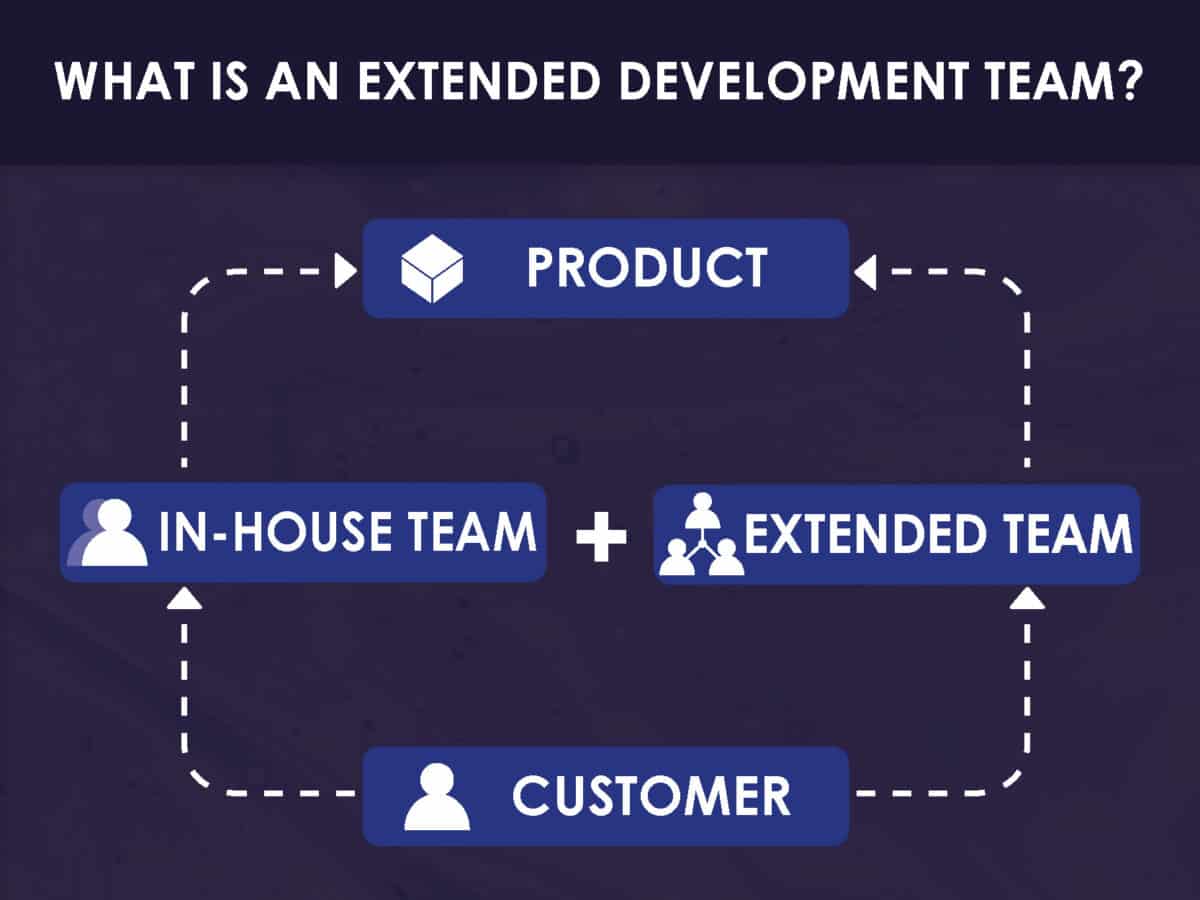 Simply put, the extended development team model is a way to hire remote employees to temporarily expand your in-house development team. You go to a vetted developer marketplace — a talent base with hundreds of tech specialists employed and managed by one vendor — and a vendor selects engineers, designers, or other experts from their talent pool according to your request. After the approval, the candidate will join your existing team for the entire development process or project duration.
Members of the extended team have shared responsibilities with your core team but not an office space, as they work remotely. Last but not least, the vendor handles all administrative, operational, and recruiting issues.
Extended Development Team vs. In-House Team vs. Traditional Outsourcing
The IT industry offers various ways to build a software development team, each tailored to different needs. Let's compare the three most common models to understand the concept of an extended software development team.
Responsibilities management and control level
The key difference between these models concerns the level of management or employer control.
By hiring an in-house team, you get full control over the employees' work responsibilities, as well as their salary, vacations, and other administrative issues. If, for example, a developer gets sick, you are also responsible for covering their sick days and finding a substitute engineer.
In traditional outsourcing, you avoid the administrative hassle but have little say over project management. Of course, you can request reports, make changes, and regularly communicate with the team working on your project. But, usually, the traditional team has its own project managers to give tasks and control the day-to-day work.
The extended software development team is the golden mean of management, as you retain complete control over the daily processes of your extended development team but leave all administrative issues to the vendor.
Cost of hiring
In-house development is the most expensive way to work on a project. Traditional outsourcing and extended team models are more affordable alternatives with roughly the same price tag. Let's look at the numbers.
In the USA, you pay an average of $95,000 to a junior developer or $150,000 to a senior developer annually. This figure doesn't include benefits, employment taxes, office fees, and other administrative expenses.
Traditional outsourcing is much more affordable since you only pay for the work of an outsourced team or specialists and can choose countries with lower cost rates per hour, such as India ($25–50) or Ukraine ($30–55). In addition, by hiring freelancers, you avoid extra fees payable to outsourcing companies as you take all risks.
The cost of an extended team model does not differ that much from traditional outsourcing as the pricing formula is similar — specialist cost rate per hour plus company fees. However, some companies offer more favorable conditions. For example, Expert Remote specialists' rate is $30–80/hour, but thanks to semi-automated operations, fees are 1.5–2x lower than in traditional outsourcing.
Level of dedication
This crucial aspect makes the biggest difference — and impacts the quality of the project. Freelancers or employees of traditional outsourcing agencies can juggle a few projects at once. As a result, they might not wholly focus on the needs of your project, delivering poor results. Meanwhile, in-house and extended team employees are dedicated software development teams fully focused on your project.
Access to the global talent pool
Every company wants to hire the best specialists for its projects. But your talent pool is geographically limited when you build an in-house team.
The situation is slightly better in traditional outsourcing, as you can hire experts from anywhere in the world. Still, outsourcing companies keep only a dozen engineers on the bench, so you will have to choose from a few candidates who are currently available, even if they aren't the best match for your team.
Vetted developer marketplaces, like Expert Remote, are a different story. They can have thousands of vetted developers in their database available for projects, giving you unlimited access to a global talent pool.
Recruiting effort
Talking about hiring the best specialists, we should mention another benefit of the extended team model — effortless recruiting. You don't need to spend months searching, selecting, and interviewing candidates, as is the case with freelancers or in-house employees. The vendor does everything for you. Your only responsibility is to send a list of requirements, come to the interviews with shortlisted candidates, and choose the best fit.
| | | | |
| --- | --- | --- | --- |
| | In-house | Traditional outsourcing | Extended development team |
| Control level | Full control over work-related and administrative issues | Limited control over the work process | Full control over the work process; administrative issues handled by the vendor |
| Cost | High salary + administrative, recruiting, and operational costs | Affordable specialist's rate per hour + vendor's fee | Affordable specialist's rate per hour + low vendor's fee |
| Dedication level | Full dedication | Can work for several clients at once | Full dedication |
| Talent pool | Limited by location | Limited by a small number of available specialists | Access to a global talent pool and thousands of available specialists |
| Recruiting effort | Recruiting effort is a company's responsibility. The process can take months. | When hiring freelancers, recruiting effort is a company's responsibility. The process can take months. | Recruiting effort, except for the final interview, is fully the vendor's responsibility. The process takes days. |
When Do You Need an Extended Tech Development Team?
Now you can see that an extended team model outperforms a traditional outsourcing and an in-house team in many aspects — cost, level of control, talent pool, and administrative and recruiting effort. Still, it isn't the best fit for all projects by default. But there are a few common scenarios when an extended team suits the best.
You want to reach expertise and extend the team on a tight budget
Sometimes a company can have a great idea but not necessarily the budget or capacity to bring it to life. For example, if you need a niche specialist to fill the skill gap but cannot afford the only one available in town, an extended team model is your go-to choice. By hiring remote team members from countries with lower rates, you can fit in the tight budget and also enjoy all the perks of in-house employees, such as high-level engagement and direct communication between a hired developer and your project manager.
You need to improve time to market
Companies enjoy faster and more efficient work by beefing up their in-house teams with remote specialists. First, you don't spend time on recruiting and onboarding. Second, remote team members are ready to deliver results here and now. Taken together, it cuts your new product's time to market.
You plan middle-term or long-term projects
The dedication takes time — new hires must learn your company's workflow, organizational culture, specifics of project management, and goals to deliver the best results. So, hiring an extended team for short-term projects or tasks makes little sense, as top-rated freelancers can do the same job for a lower price. It's best to choose an extended team model to build long-term cooperation as you basically welcome a new member to your team.
If you find yourself in any of these scenarios, follow our recommendations below to hire the perfect match for your extended team.
Tips to Build a Perfect Extended Software Development Team
Let's get straight to the point — these tips will help you build an excellent extended team.
Choose vendor wisely
First, check the general and industry-specific experience, specialization, and skills of vendor's specialists for hire to see if they meet your needs. A vendor company should be able to provide you with real specialist flexibility in terms of hours they could devote to a particular project. Also, clarify the company's policy on a specialist replacement to avoid employee shortage in the middle of the project.
Be proactive when selecting candidates
Don't leave all recruiting responsibilities to the vendor, as only you can know who is the best fit for your company. It won't take long to interview the shortlisted candidates but it will help you choose the best expert for your team.
Introduce new members to your organization's culture
Remote engineers and designers will be part of your core team for months or even years. So, it makes sense to introduce them to your policies, organizational culture, the company- and project-specific goals, and even favorite in-house traditions. Establishing a genuine connection early will help your new hires to get along with the team.
Make extended team members part of your in-house team
Your remote employees should get the same rights as in-house specialists when it comes to project work to build a dedicated team. Do invite extended members to all meetings and consider their ideas if they seem likely to improve the project management or the outcomes of your project.
Create a clear roadmap with milestones for the extended team
A clear roadmap guarantees a match between your expectations and those of your extended team members. It also helps you avoid misunderstandings and meet deadlines without increasing the workload of in-house employees.
These recommendations will ensure you benefit the most from your extended software development team.
Why Сhoose Expert Remote as a Vendor of Extended Development Teams
Expert Remote helps companies hire the most talented and brilliant remote engineers, designers, and business analysts for their extended development team. Our pool has over 400 specialists with five to twenty-five years of experience in IT. They have diverse skill sets and software development expertise. But don't get anxious. Partnering with us, you won't have to worry about the recruiting and hiring process. We'll select the top two to three candidates according to your requirements, and the expert you choose will join your company within a week.
Want to skip hiring challenges?
Fill out this form and we will reach out
Contact Us
Final Thoughts
The extended team model is a convenient and efficient way to hire specialists as remote employees — and avoid all employment-related costs and efforts. This way of extending the in-house team is more cost-effective, reliable, fast, and hassle-free than hiring in-house employees or fully outsourcing projects to third-party developers. The vendor handles all administrative issues, leaving the client in complete control over the extended software development team's work on the project. To wrap up, your main responsibility is to choose a reliable vendor and onboard new employees to build a dedicated team for a successful long-term collaboration. Contact Expert Remote to start this journey right now.
Remote tech teams & the future of work blog
Remote tech teams & the future of work blog
Your form has been successfully submitted.