March 09, 2023
12 min read
Building a Nearshore Software Development Team
Introduction
Software developers, quality assurance engineers, and other skilled IT staff who form a typical software development team, in the United States, take around $110–130 per hour. Also, the current supply-demand ratio is 68 applicants per 100 opened positions, according to CNBC's actual finding.
Does it sound like a death sentence? Not actually. Remote software engineers hiring from abroad might significantly reduce costs for your project and expand the market to hunt talent. Today's market dynamics, as well as post-COVID reality, require respective approaches to hiring and employment. And the usage of different formats of remote hiring in recent years can address the challenges of the time your business might face.
One such format is the nearshore software development process. In this article, we'll figure out:
what is nearshore development;
what are its pros and cons;
when nearshore is the right choice for your project,
and, finally, how to acquire nearshore software development services successfully with Expert Remote.

Nearshore Software Development: Terms and Definitions
Nearshore development is when you hire a team of developers for your project from a neighboring country or the one closest to you with the same or similar time zone.
However, distance is quite a relative thing in this case. Your team may be located thousands of miles away and still be available for real-time communication with rates lower than in your region. For US-based companies, a nearshore team can be outsourced in Latin America, for example.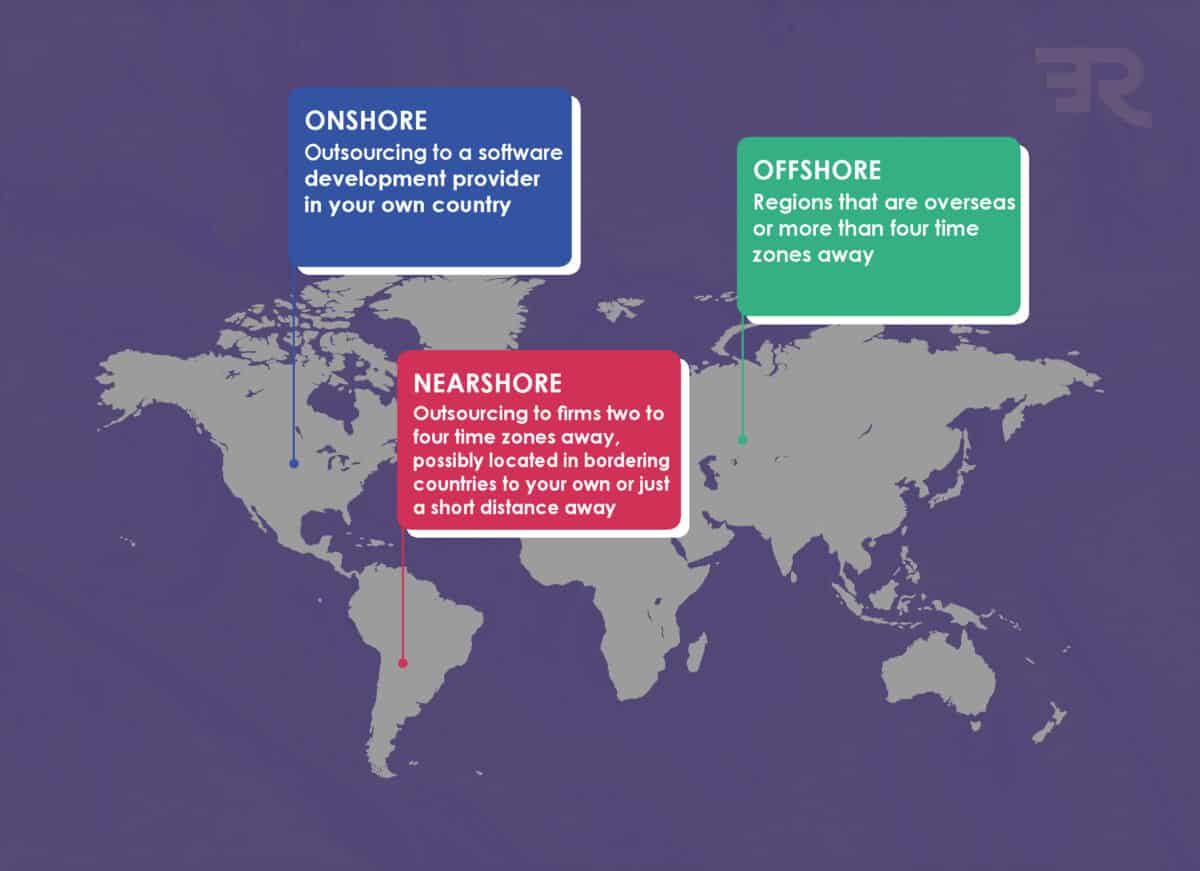 Nearshore teams are either dedicated or integrated.
Dedicated team means you hire a complete workgroup that develops your software on a turnkey basis. It resembles in-house development: the project is still fully under your control and you are the main point of contact for developers. At the same time, such teams are basically outsourced by vendor companies who deal with all administrative, HR, tax, social benefits, and any other operational issues. So you don't have to worry about them.

In integrated teams, outsourced engineers collaborate with your regular in-house employees. Such contractors can be located in several different countries if that makes sense.
Nowadays, businesses rely on nearshore development more and more frequently. In the US, the demand for the nearshore model among American small businesses increased from 15% in 2021 to 21% in 2022.
Need a dedicated nearshore team?
Expert Remote has a pool of proven tech talents across the globe.
Schedule a Call
So, let's analyze the pros and cons of the nearshore development model and find out if the approach fits your project.
Nearshore Development Team Pros and Cons
| | |
| --- | --- |
| Advantages | Disadvantages |
| Easy and fast communicationSince nearshore locations are of the same or very close time zones, communication is as fast and comfortable for everyone as for the in-house employees. | Lower cost-saving potential compared to offshorePotentially, nearshore outsourcing is more cost-effective compared to onshore (hiring locally) but often more expensive than offshore (hiring globally from whatever region — you can find the cheapest ever staff). |
| Higher cost efficiencyRates of highly-skilled developers in nearshore locations are often lower than in your region, especially if your region is the USA, Western Europe, or any other developed country. | Tough rivalry for talentIt can be hard to find the required combination of skills due to rising demand and a limited number of outsourcing vendors within the nearshore regions. |
| Wider choice of talent By expanding their search focus, companies get access to a greater pool of talent than could be found locally. | Cultural differencesWork habits and communication styles in the closest or even neighboring countries in some cases can differ from your country. |
| Fewer communication issuesSituated in one of the neighboring countries, nearshore teams usually share the same or quite a close language, culture, communication ethics, etc. For example, Jamaica has the same official language as the USA. | Different languagesThe mother language that nearshore developers speak is not always the same as in the region the company is located in, which may cause miscommunication. For example, most of the nearshore jurisdictions in relation to the USA speak Spanish. |
| Higher flexibilityCompanies don't have to tie themselves with long-term contracts or hire full-time employees. They can engage the staff as and when needed, which helps reduce costs and maximize efficiency. | Code of conduct misalignmentIn the case of an integrated team, the way outsourced teammates usually work can differ from how the processes within the regular team are built. So it might take time for everyone to adapt. |
| Up-to-date infrastructureOutsourced dev teams regularly upgrade their practices, tools, and technologies to remain competitive in the market, which can benefit the project. If the company is building an integrated team, regular employees can learn from their colleagues as well. | |
| ScalabilityCompanies can easily expand or downsize the nearshore team when needed, which optimizes production and reduce costs. | |
| Offline meetingsIt's easier to meet the nearshore development team personally than the offshore one. It allows you to build stronger working relationships. | |
When Nearshore Development Fits the Best for Your Project
Now, let's review the cases when nearshore development outsourcing is the most beneficial option for your project.
When you need to quickly expand your development team. Once you need an additional workforce ASAP, hiring in-house doesn't look like an affordable option: the average time to hire an engineer in the USA is 49 days. Instead of this, you can outsource your development needs to the nearshore contractor in just days.

You're unable to find a developer with rare expertise in your location. Instead of wasting months on searching for the right candidate in your location, you can engage the nearshore contractor and onboard a rare specialist in a week.
When you lack certain expertise. This case is someway similar to the previous one. A lacked expertise here plays a role of an expensive resource you need to continue making progress on the project. To be honest, sometimes expertise in a particular subject is what you need to keep moving forward.

When the development process is too slow and needs to be hastened fast. Again, hiring in-house is far not the best option when a quick result is required. Nearshore outsourcing can give your team some additional power in a few days. Plus, outsourced developers usually work harder which can motivate your in-house employees.

When a maximum headcount is limited and you cannot hire more. Sometimes the hiring policy of your company can be a barrier forbidding you to expand the existing team. Outsourcing is usually out of such policies thanks to it significantly differs from hiring.

You're tightened in budgets and want to drop costs. Nearshore outsourcing isn't just about lower hourly rates. Each employee hired in-house adds to your spending list extra points: insurance, maternity leave, office rent, coffee&cookies, vacation pay, severance pay, and many others. Nearshore outsourcing is free from these charges.

Your in-house recruiting process is struggling to fill positions on time. Sometimes you need talent with rare skills, or job requirements don't look attractive to candidates. Or the in-house hiring teams don't have the time or the resources to fill all open positions on time. In this case, nearshore outsourcing is a good alternative.

The nearshore team has deep relevant expertise right in your niche. Relevant previous experience is an essential success factor when we speak about software development projects. The nearshore team with deep niche experience is often more important than the same experience a single team member has.
Hiring a Nearshore Team with Expert Remote
Hiring in-house can be challenging and risky, as you know already. The process is costly, can last many months, and the result isn't guaranteed at all. Hiring outsourced development teams seems a good alternative but is also tied with some challenges and risks.
Vetted Developer Marketplaces like Expert Remote combine the advantages of both outsourcing and hiring freelancers but are free of their disadvantages. Below are the advantages of hiring with Expert Remote.
You save a lot of time. LinkedIn claims that the average hiring duration is 49 days. Each position closed means hundreds of applications reviewed and 5–10 interviews conducted. With Expert Remote, you'll interview 2–3 verified candidates and hire the best one in 2–3 days.

You save a lot of money, as well. If we speak about hiring within the USA, the average cost of an engineer is $32,601 (CodeSubmit). For nearshore development on your own, it won't be cheaper due to more complex onboarding processes and wider focus. With Expert Remote, all the up-front expenses are included in the hourly rates, so the hiring process costs you naturally nothing.

You'll get only top-level talents. Our pre-vetted talent pool contains hundreds of highly skilled tech talents for each role you need within your nearshore team.

Personalized approach. We're not just giving you access to our platform, we provide the staffing service which means we organize interviews for you and make the whole recruiting and onboarding process very smooth.
Conclusion
So, let's recap our findings.
Nearshore development seems to be a good in-between solution that combines quality, cost-efficiency, and personal comfort.

It's often cheaper than onshore hiring while being faster and easier to navigate than offshore.

Nearshore development outsourcing is a highly universal approach that fits different situations (above you can find a list of them).

We hope this article will help you make the right decision!
Frequently Asked Questions
1. What is a nearshore development center?
A nearshore development center is a software development center located in a neighboring or nearby country that provides outsourcing services to companies in a different country, usually in the same or similar time zone.
2. Is the Agile nearshore software development team different?
Not actually. Most often, nearshore software development companies provide teams managed on the customer side. So, the difference, in this case, lies only in the processes used but not in the team itself. However, sometimes nearshore agile software development teams can contain Scrum masters, product owners, product managers, or other roles that are typical for the client side.
3. What is nearshore application development?
Nearshore application development is the practice of outsourcing the development of desktop, web, or mobile applications to a nearby or neighboring country. This typically involves hiring a software development company located in a country that is geographically close to the client company but with lower costs of living and labor.
4. Is it hard to hire nearshore .NET developers for a European company?
It may not be very difficult to hire nearshore .NET developers for a European company, as there are many countries in Eastern Europe that have a large pool of highly skilled and experienced software developers. These countries have become popular outsourcing destinations for European companies due to their proximity, time zone compatibility, and lower costs compared to Western Europe.
5. What about a nearshore software development team in Poland?
Poland is one of the most popular nearshore outsourcing destinations in Eastern Europe for software development. This country has a thriving IT industry and a large pool of developers who are proficient in different branches of software development. A significant part of Expert Remote talents is situated in Poland, as well.
6. What benefits a nearshore development team from Europe has?
A nearshore development team from Europe can offer high cultural similarities of their members, the same high engineering skills level, as well as hourly rates lower than in the USA or Western Europe.
Remote tech teams & the future of work blog
Remote tech teams & the future of work blog
Your form has been successfully submitted.